I learned from Meggan yesterday that Bottled Sky was included in Smashing Magazine's 45 Excellent Blog Designs article. That was a nice surprise for me, as I haven't been checking my stats lately. Or reading any of my regular blogs. Or responding to comments. That's what happens when real life gets in the way.
I went on several job interviews this month. I was especially nervous on one occasion, because it was my second interview with that particular company. I knew they would either hire me that day or not. I also knew nerves would definitely not help, so every time I felt the tiniest bit of anxiety on the way to their office I lightened myself up by thinking of the fact that underneath my conservative business attire I was wearing a thong decorated with a cartoon cow. Nothing like funny underwear to shoo away stomach butterflies, I always say. Try it sometime. It worked for me—I got the job.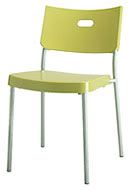 A few days after landing my first day job I assembled my first piece of IKEA furniture. The process involved a lot of screwing, screaming and cursing and left me exhausted yet satisfied afterwards—kind of like sex, except less… sexy.
Then the day after my IKEA devirginization I was evangelized into the Cult of Mac! Years of dealing with evil viruses and hard drive crashes made me more than ready to finally ditch PCs and make the switch. I've had my MacBook Pro for about two weeks now, and I can honestly say that it is the hands-down best thing I have ever owned. Yup, even better than my anxiety-busting cow thong.