Make Your Own Photo Clothesline
The need for this project became painfully obvious the day I moved in to my new apartment several months ago. As I put away the contents of the last of my freakishly organized boxes, they stared me in the face: BORING. BLANK. WALLS.
You just might have a few in your house right now, bleak expanses of concrete or plaster screaming for you to put something (anything!) on them or they'll eat your soul. Why don't you try what I did and make a photo clothesline?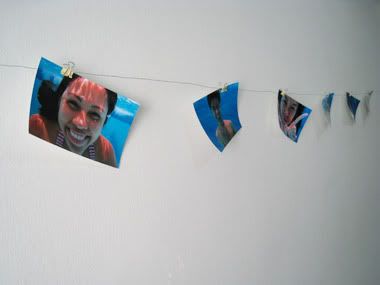 What You'll Need
A boring, blank wall
A measuring tape
A pencil
A pair of 3M Command hooks (I like this brand because the adhesive comes off cleanly)
A few meters of thin metal wire
Wire cutters
Mini binder clips or wooden laundry clips
Some awesome photos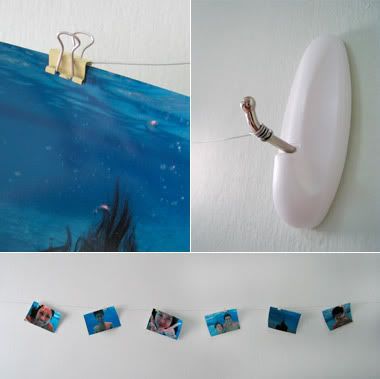 How to Make It
With a pencil and a measuring tape, make a mark a few of inches above eye level at one end of your wall. Mark the same height at the other end.
Attach the adhesive hooks right on the marks.
Cut a section of wire that's slightly longer than the distance between the two hooks.
Wind the ends of the wire around the hooks. Make sure the wire is pulled taut.
Hang your photos with some clips.
Stand back and marvel at your newly fabulous wall.
The beauty of this is that it's so simple to change the photos once you get sick of them. You can even hang sketches, cards, and other lightweight objects, or use spiffified clips like these washi-covered ones from Etsy. Your walls will never be boring again!