Summer Makes a Comeback
Last June my friends and I went on a trip to Cebu, where we jumped off waterfalls and took naps on the beach. The post-vacation high somehow managed to seduce my web design muse out of wherever the hell she'd been hiding for the past year.
When I got back to Singapore, I started working on a remake of the summer-inspired layout that I created back in 2006. (Translation: I was too lazy and not quite inspired enough to start from scratch.) Unfortunately real work got in the way and sent my muse packing. I never got around to finishing the layout.
Well, not until now! You see, I went on another trip recently, this time to Batam, Indonesia with two of my fellow slaves colleagues. We went cable skiing, gorged on surprisingly fantastic pizza, tanned poolside, and spent hours being massaged into blissful, boneless relaxation. The trip gave me just the right amount of juice to finish what I started months ago.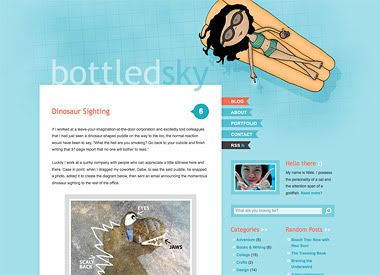 I'm kind of in love with it, if I may be so immodest. I found a few bugs just now that would have normally sent my anal side on a rampage, but I'm just so happy that I don't even mind. Take that, obsessive-compulsive tendencies! Let me know, if the layout isn't working right on your end, though. I'm not too far gone to not care about that.
Just for kicks, here are photos from the trip that got me all summer crazy again: