Dinosaur Sighting
If I worked at a leave-your-imagination-at-the-door corporation and excitedly told colleagues that I had just seen a dinosaur-shaped puddle on the way to the loo, the normal reaction would have been to say, "What the hell are you smoking? Go back to your cubicle and finish writing that 37-page report that no one will bother to read."
Luckily I work at a quirky company with people who can appreciate a little silliness here and there. Case in point: when I dragged my coworker, Gabe, to see the said puddle, he snapped a photo, edited it to create the diagram below, then sent an email announcing the momentous dinosaur sighting to the rest of the office.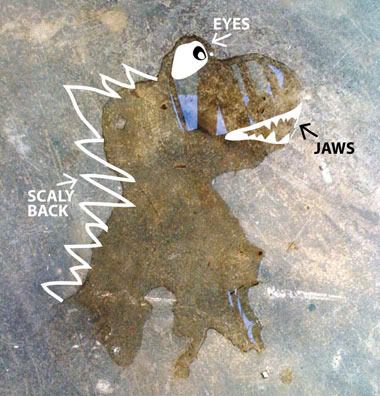 Nikki and Gabe, brand consultants by day, wicked awesome archeologists by night.
Speaking of awesome, check out these photos from our company retreat last month. We went to Bintan, Indonesia and ate so much that my stomach expanded to three times its normal capacity. Thanks to Christina for the photos!