G-max Reverse Bungy
My F1-crazy friend, Chrissa, came to Singapore to watch the night race last September. While she was here, we jumped at the chance to get flung into the air on the G-max Reverse Bungy ride at Clarke Quay. We loved it! A couple of lessons learned:
Go at night to avoid being roasted in the sun.
Wear pants instead of a miniskirt.
Below is a video of our ride. The scream you'll hear during the release came from the guy holding the camera.

Can't see the video? Watch it here.
We also went on the tamer GX-5 Xtreme Swing, but we unfortunately didn't manage to get a video of that.
Do you know what else we didn't manage to get? Pictures of the two of us that showed more than our faces. That's what happens when you don't bug other tourists to take your photo and just rely on the "hold the camera at arm's length and click" method.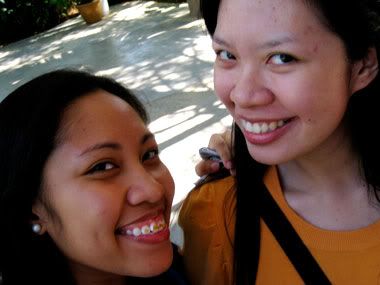 In other news, I will be jetting off to Manila this Saturday to take a break from work and to spend an entire week with my lovably eccentric family, my fabulously fun friends and my huggably neurotic pets. I'm practically vibrating with excitement.