Two Cakes and a Canine Genius
Last Monday I turned 24. It was my first birthday in Singapore, my first birthday at work, my first birthday away from home, and most importantly, my first birthday with two cakes (although I only got to eat one of them).

The first cake came from my coworkers, who threw me a surprise lunch at the office. I went to work expecting nothing, so I was caught completely off guard when they all started singing "Happy Birthday" at noon. Aside from cake we had pizza and a yummy salad that Haydee, one of my coworkers, made herself. They also gave me a large card that they had all signed.
While I can definitely report that my first cake tasted delicious, I can only say that my second cake looked delicious, because I was merely able to enjoy it—and the rest of the birthday dinner my family had prepared for me—over Skype. I chatted with them after I got home from work and "blew" out my birthday candles via web cam. Even our dog Biscuit joined the chat. Check out this picture and tell me she doesn't look smart: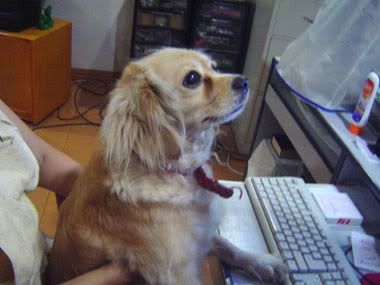 I swear that dog is a genius! She had her front paws on the keyboard, and somehow she managed to shut down the computer in the middle of the chat by pressing ctrl-alt-del TWICE. Next thing you know she'll have her own blog, "Biscuit, PhD: The Secret Life of a Canine Genius," where she'll write about the digestive repercussions of snacking on dirt and share the best yoga techniques to make gnawing at that hard-to-reach itchy spot at the base of the tail a breeze.