Finally Making Progress
It looks like my plan to rid myself of designer's block worked. I made five layouts in the last two weeks and am now more than halfway through my huge backlog of design projects. Go me!
The first three designs are grossly belated birthday gifts for my college friends. I was broke last year, so instead of buying cheap gifts that I wouldn't want for myself, I promised to make new layouts for those who had blogs or LJs. I'm still broke, so the question is, what will I make for them this year?
Anyway, the fourth is for our group blog, and the last is a streamlined, resume-appropriate version of my portfolio. Check them out! Links and screen shots (as well as a few web design questions that I'm hoping you coding gurus can answer) are after the jump.
Bedpotato @ LJ — Chrissa went to London twice in the last several months, traipsing all over the city and molesting unsuspecting yeomen, Royal Guards and various other men in uniform. Of course I had to draw a cartoon and make a layout based on that!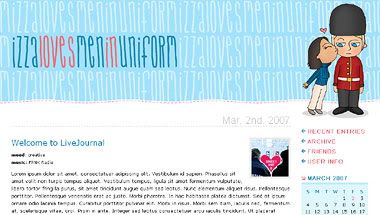 Over Coffee & Tea — If you know Tin, you'll know that she loves the color orange, caffeine and sweet desserts. It's funny, because I unwittingly used the same shades of orange and a couple of the same accents (speech bubbles, hearts) that I used for the cartoon I did for her last Christmas. I only noticed the similarities after Tin suggested that I use that drawing as her profile photo.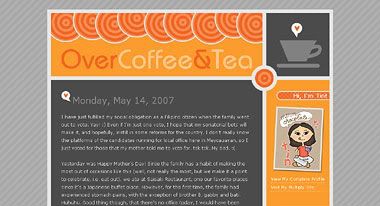 The Poor Princess — Ivy is crazy over stars, so her layout had to have at least one of them. I put in a dozen just to be safe. The suckiest browser in the world, also known as Internet Explorer, gave me grief over this layout. Look! One freaking pixel! ONE! I hate you, IE. Please die.
CWSO Blog — This is a long overdue redesign for the group blog I share with my college friends. The last time it had a new layout was way back in 2003… I think. It's been so long that I don't even remember. Check out the Wall of Shame! Life is so much more fun when you don't take yourself too seriously.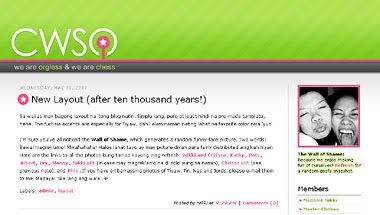 nb.bottledsky.com — I'm in the process of rewriting my resume and I wanted a more formal and professional-looking portfolio to go along with it. I didn't want to create a whole new site parallel to this one, so I just went with a simple, one-page showcase of my "recent" work. (A couple of the older screen shots are temporary placeholders for projects I'm currently working on.)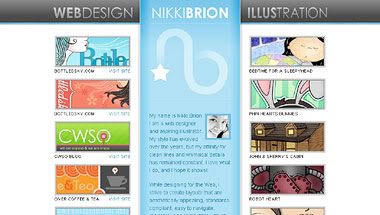 Naturally I encountered a few problems while coding these layouts. I'm hoping you guys can help me by answering these questions (if you can):
Does anyone still use IE 5.5? How concerned should I be if a layout looks like shit in it?
Do you know of a script similar to Lightbox that doesn't act up in Opera?
Is there a max-width hack for IE that won't invalidate my CSS? I used width:expression(document.body.clientWidth. > 800? "1000px": "auto" || document.body.clientWidth. < 900? "770px": "auto"); for the CWSO Blog. It works, but it doesn't validate.
That's all for now. Hopefully, if I slave away for another week, I can finish the rest of my pending projects. It's crunch time, and my inner crammer is loving the challenge. The rest of me just wants to sleep