Back from Baguio
I just got back from my Baguio trip, also known as the Great Strawberry Binge of 2007. Man, those strawberries were fantastic. We stayed at a lovely hillside house in a village charmingly called Rainbow's End. Here are some photos I took in and around the property: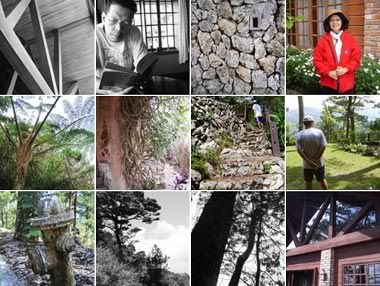 Generated by Mosaic Maker
1. Wooden Beams, 2. Dad Reading, 3. Niche, 4. Mom by the Daisies, 5. Fern, 6. Vines, 7. Stone Steps, 8. Dad Enjoying the View, 9. Fire Hydrant, 10. Trees & Clouds, 11. Looking Up, 12. Reflections
As for my detox efforts, I would have to say they were a smashing success. I managed to stay off the Internet the whole time. I did drink one itty-bitty cup of coffee on the second day, but only because it was so freaking cold. Yep. That's my excuse and I'm sticking to it!