Get Your Smooch On
My LiveJournal has been "smoochified." I normally don't do mushy, but I came across this old drawing of mine and felt the urge to use it in a layout: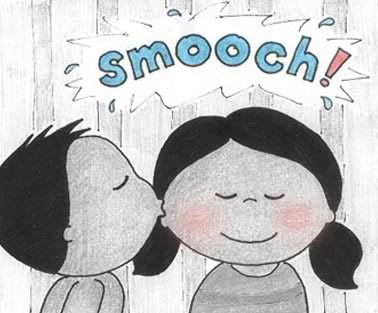 I added the style sheet to the LJ themes page in case anyone else wants it. I had a few drops of creative juice left over after finishing the layout, so I made a bunch of icons as well.
In other news, my mom is now a blogger. I guess everyone and his mother really does have a blog these days
She chose Mrs. B for her screen name and refers to my dad as Mr. B and me as Miss B in her entries. I love it, haha!
To my knowledge, my dad has yet to join the blog-wagon. He does visit this site regularly, though. (Hi, Dad!) Sometimes we'd be eating dinner and he'd say, "By the way, in your links page you missed an 'I' in 'visiting.'" Who needs Spell Check when you have a perfectionist father going over your website?