Attack of the 80′s Cocktail Dresses
Taking a cue from my traveling book, one of my favorite pairs of pants has left me for Germany. My aunt, who lives there, stayed with us for a couple of weeks in November. She went back home just before the holidays, and my pants were accidentally mixed in with her luggage.
Although I'm a little bummed about losing those pants, I can't help but be amused that another of my possessions has reached Europe before me. Plus, I can't really complain, because although I lost a pair of pants, I gained three cocktail dresses that my aunt generously bequeathed to me before she left. Sure, they look like they belong more in the costume department of a bad 80′s movie than in my closet, but at least they're, um, interesting.
Dress # 1 is bright purple with a fully-sequined bustier top and a skirt made of shiny, metallic fur (I kid you not). It also comes with a matching shawl made of the same furry fabric.
Dress # 2 has a black satin bodice and a ruffled, gold-and-peach skirt. I don't know what that gold fabric is called. I asked my mom, but the only thing she could say was that it looked like crinkled candy wrapper There's also a wide ruffle that runs around the bust area, which my aunt says is supposed to make the wearer look like a flower.
Dress # 3 is made of black brocade and adorned with a big bow on the front. It's actually pretty tame compared to the other two.
All three dresses fall just above the knee. In case you're having trouble imagining what they look like, here's a visual aid: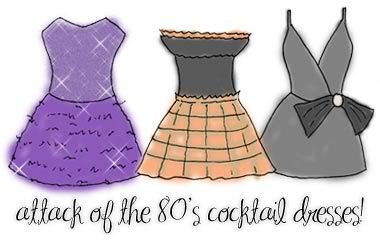 All I need now are 3-foot-high bangs and a costume party to attend. Does anyone want to join me? I'd probably wear the furry, sequined wonder; you can pick from the other two dresses.