More Christmas Penny Pinching
My college friends and I hung out this weekend. It had been months since I last saw some of them, so I was really excited. We went swimming, had pancakes for dinner, played PS2 (they played; I just randomly pressed buttons), (re)watched Golden Boy, drank, slept a little, then woke up and had leftover alcohol with our breakfast. Good times.
Of course there was gift giving, too. Like I mentioned in a previous post, I didn't have much money to spend on gifts this year, so I did a lot of DIYing. This time I drew cartoon alter egos of the girls, had them printed, and found matching desktop frames for each drawing: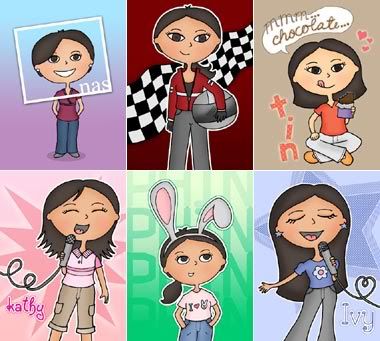 They loved it! Seeing their reactions to the cartoons got me feeling all warm and fuzzy inside. The guys pretend-pouted and asked why I didn't do the same for them, so I mock-complained about how hard they were to draw because they all looked alike, hehe. I did try, but unfortunately I can't draw boys as well as I can girls. I got them uber-geeky squeeze flashlights instead. Maybe next year.
Happy holidays, everyone! And thanks to Rose for being extra cool.