Endless Summer
You are looking at Skylight version 16, entitled "Endless Summer." I created this layout for the following reasons:
the semester is finally over and I have free time again;
I love to swim;
I love the colors of the ocean; and
I love summer, the way I used to know it as a kid.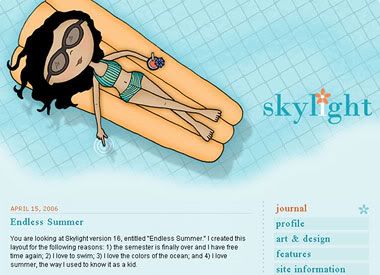 The summers of my childhood meant freedom and relaxation. For two glorious months, I didn't have to worry about following a schedule. I could sleep as late and as long as I wanted and spend my days however I chose. But then college rolled around, and I had to use my summers to catch up on the units I lost in trying to find a major that didn't drive me crazy.
I'm scheduled to graduate in October, and this summer is the last I'll ever have. So I decided to skip summer classes for once, forget about school for a while and just enjoy a true-blue summer vacation. I plan to paint my room aqua, visit the beach with my friends, get a tan, take lots of pictures, and make pretty things (hence the layout). I'm going to make my last summer count!